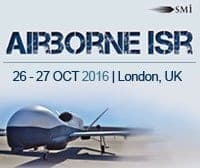 SMi Group is pleased to announce that registration is now open for its 2nd annual Airborne ISR conference, being held in London on 26th and 27th October.
This year's event will open its doors to a brand new expert speaker line-up, including those at the heart of ISTAR air systems operation, development and integration from both the military and industry. The agenda will focus on the most up to date strategies and systems for developing practises and technologies required for information superiority.
Covering direction, collection, process, dissemination and targeting, this event will thoroughly analyse the intelligence chain and deliberate the best practices for enhancing ISTAR capabilities. Drawing on respective nations ISTAR structures and operational feedback, to explore the doctrines and strategy necessary to develop the finest airborne ISR.
Just some of the featured highlights from this 2-day event include: 'Transforming the Next Generation of ISR to Deliver Battle-Winning Knowledge and Effects' by Wing Commander Williamson of the Royal Air Force (UK), 'Medium Term Plans for the French Air Force Advancement of RPA Based ISTAR' by Lieutenant Colonel Benzaquen of the French Air Force and '435th Air and Space Communications Group Delivery and Sustainment of ISR Systems Supporting U.S. and Coalition Forces' by Colonel Dippolito of the United States Air Force.
The programme will also feature two interactive expert led panel discussions on 'Effective Concepts of Operation for Collection of Intelligence' and 'Deliberating the Direction and Requirements of Command and Control for ISTAR Operations'. With an expert speaker line-up containing key decision makers from the: Royal Air Force, Royal Netherlands Airforce, French Air Force, UK MoD, NATO, Defence Command Denmark, DSTL, United States Air Force, German Air Force, Forces Command, Spanish MoD, RUSI and many more.
For further information on the conference, visit the event website.
For sponsorship enquiries, contact Sadia Malick on +44 (0) 207 827 6748 or [email protected]
For delegate enquiries, contact James Hitchen on +44 (0) 207 827 6054 or [email protected]
For media enquiries, contact Shannon Cargan on +44 20 7827 6138 or [email protected]