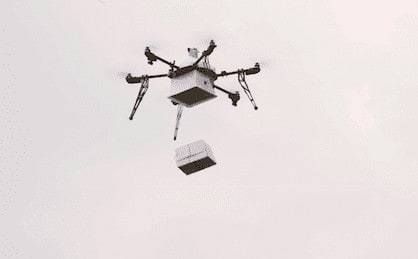 Independent drone delivery service Flirtey and Dr. Timothy Amukele, an assistant professor of pathology at Johns Hopkins University School of Medicine, have successfully conducted the first ship-to-shore drone delivery in the United States.
During the demonstration, held at Cape May, New Jersey on 22nd June, the multi-rotor UAV carried a package of medical samples for emergency testing from an onshore site to a test facility aboard a ship off the coast.
The drone hovered over the craft and, using a winch system, lowered the package onto the barge before landing. The boat crew retrieved the package and then loaded it with medical supplies which the drone delivered back to the onshore medical camp.
Watch the video:

The flights took place as part of the United Nations' Drones in Disaster "Do Tank" event. The joint mission demonstrated how unmanned aircraft can provide life-saving aid to victims of a disaster, such as a hurricane or system-wide failure of electrical or communications infrastructure.
Pentagon Performance Inc. (PPI), flight operations contractor for New Jersey UAS Test Site, oversaw the operation's range safety and coordination with the Federal Aviation Administration (FAA) to ensure the demonstration complied with federal regulations.
Last year, Flirtey became the first company to conduct an FAA-approved drone delivery in the United States, and the first company to perform a fully autonomous drone delivery to a home in the U.S.