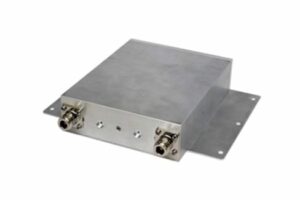 NuWaves Engineering, a provider of international radio frequency (RF) and microwave solutions, has announced that it is now offering custom quick-turn RF filters to meet the filtering demands for military and commercial applications.
NuWaves Engineering provides a large selection of options for customized quick-turn filters, including frequency range of HF to 20 GHz, 3 dB bandwidths from 0.1% to 28%, and up to 50 W power handling. Available filter shapes include Bandpass, Lowpass, Highpass, and Bandstop (Notch) in order to provide one-of-a-kind solutions for a multitude of applications. Standard filter topologies include Cavity, Lumped Element, and Distributed (Stripline or Microstrip), with other topologies available upon request.
Customer filter specifications can be submitted to Nuwaves, and the filters are then customized to the specific customer requirements through a combination of in-house filter expertise, an onsite machine shop, and Nuwaves' internal manufacturing and testing processes.
"The Custom Quick-Turn Filters offering has been an exciting undertaking. There is an unspeakable feeling of satisfaction from providing product solutions to our customers in such short time," explains Jeff Wells, President and CEO of NuWaves Engineering. "We are proud to provide trusted filter solutions to our customers to make their operations successful."