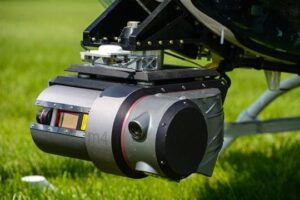 Aurora Flight Sciences, a designer and manufacturer of unmanned aircraft systems (UAS), has announced that it has tested new capabilities of its Autonomous Aerial Cargo/Utility System (AACUS) for the U.S. Marine Corps.
The AACUS is an autonomy applique kit that enables operations of full-scale rotary-wing aircraft in and out of austere landing zones, tactically, with little human assistance.
"We know how to make things fly, we've been doing it for over 100 years," said Retired Brig. Gen. Frank Kelley, formerly the Deputy Assistant Secretary of the Navy for Unmanned Systems. "What we don't yet know how to do, is how to couple aircraft and autonomous systems together, but great programs like this are helping us get there."
The company's mission is to find a way to make flight missions in a combat environment safer and easier for the pilots through the AACUS.
"The AACUS is a sensor package that when installed on an aircraft allows for it to be unmanned," said Capt. Christopher Alfaro, MAGTF logistics integration officer, logistics division and strategy branch, Headquarters Marine Corps. "Which means we can put this kit on any aircraft and as long as we do the science and engineering behind it, it can fly autonomously."
AACUS enables a warfighter to control the aircraft via an intuitive application on military issued tablets.
"This system is going to allow pilots to let the system do the risky jobs," said Maj. Jason Jewell an osprey pilot with Marine Medium Tiltrotor Squadron 774, Marine Aircraft Group 49, 4th Marine Aircraft Wing. "By this time next year we should be flying with the AACUS on the UH-1H."
Aurora says they plan on testing the capabilities of the program on a UH-1H aircraft from 2017 to early 2018 and plan to implement this technology into the Marine Corps fleet sometime in 2018.
SOURCE: U.S. Marine Corps