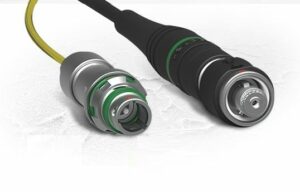 Fischer Connectors, a manufacturer of connection and cable assembly solutions for harsh environments, has launched a new FO1 single fiber optic connector as part of the company's FiberOptic Series. The FO1 is a miniature, lightweight, rugged connector designed for reliable optical performance in harsh environments.
The FO1 connector is available either in pre-configured reels or integrated into custom assemblies for applications in instrumentation, sensing and broadcast applications, as well as defense applications such as high-bandwidth camera links in manned or unmanned aircraft. The new connector fulfills the growing market need for reduced-space solutions that offer higher data transmission rates over long distances.
The connector features a push-pull locking system with UPC & SM APC polishing that allows for efficient and simple connections and disconnections, making it extremely suitable for outdoor environments. It is sealed to IP68 standard when mated and IP67 when unmated, and has been tested to withstand extreme temperature variations.
The FO1 is fully integrated into the existing Fischer FiberOptic Series, which includes a fiber optic connector with options for two or four fibers, and a hybrid connector with two fiber channels and two electrical contacts.