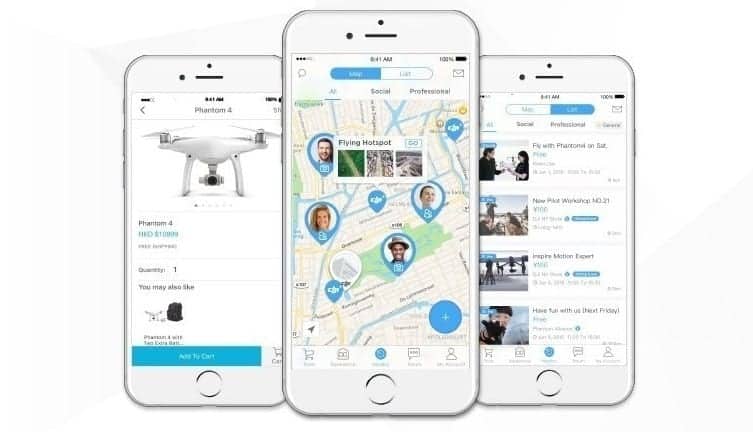 DJI has announced that it has launched a new social platform app called "DJI+ Discover," available for both iOS and Android.
The mobile app connects people socially and professionally by enabling drone-pilots and drone enthusiasts to start conversations and meet up while also functioning as a professional marketplace for aerial service providers and potential clients. Further, the app is a gateway to the broader DJI community, including an integrated version of the DJI Forum, the DJI online store, SkyPixel, upcoming DJI events and more.
"Drone pilots like to get together to fly, learn from each other and share experiences with like-minded people. In the same way, people want an easy way to find trustworthy professional aerial service providers nearby," said Paul Guo, Director of E-Commerce at DJI. "DJI+ Discover lets people in the same area connect socially and professionally in a way that will bind the drone community even tighter together."
The app is divided into four sections: Nearby Search, Experience, Store and Forum. Users sign up by registering an email address. Their profile can be linked to an existing DJI account. The app is open to anyone – from those curious about the technology without any previous experience to professional service providers.
Nearby Search shows social and professional users nearby, as well as flying hotspots and geo-tagged photos from SkyPixel. The Nearby Search section is separated for social and professional users. The platform offers social users a way to connect, chat and meet. In a similar way, professional users can introduce their offer and services and connect with new clients. Users of professional services can write reviews directly on service providers' profiles.
The Experience section guides users to nearby stores, and official DJI events. Other interactive features will be posted in this section.
The Store section takes users directly to DJI's online store.
DJI's official Forum is directly integrated in the DJI+ Discover app, making it easier for people to discuss, share best practices and get tips directly through their mobile phone.
The app can be downloaded for free here. The app is currently available in the U.S., the UK, Germany, Spain and Australia.