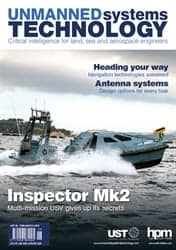 Issue 006 of Unmanned Systems Technology magazine is released this week. Subscribers will receive their copy in the mail or it can be ordered online, through the High Power Media website.
Contents include a cover story dossier on the ECA Inspector Mk2 USV and how this unmanned craft forms the core of a selection of systems for a host of marine missions. Our engine dossier reports on the development of Northwest UAV's NW-44 single-cylinder two-stroke, designed specifically for UAVs. Focus articles explore the options available for antenna systems and navigation systems. There are insights into the latest advances in driverless technology for unmanned ground systems, and we review the contenders in the LunarX challenge.
In total, 84 pages of critical intelligence for professionals actively working on unmanned systems and over 35 industry specific suppliers that could be of assistance. It all culminates in a great read, so to ensure you receive your copy, order online today.