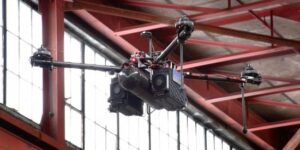 EnergyOr Technologies, a developer of advanced PEM fuel cell systems for aerospace applications, has announced that it has signed a Joint Development Agreement (JDA) with the French Air Force's Centre d' Expertise Aérienne Militaire (CEAM). This JDA will serve as the foundation to advance development of optimized long endurance unmanned aerial vehicle (UAV) platforms powered by EnergyOr's fuel cell system technology.
EnergyOr's CEO, Michel Bitton, stated, "This JDA further reinforces that EnergyOr is a leader in the field of long endurance UAV fuel cell systems and that our fuel cell technology is trusted for applications in real-world operating environments." He continued by saying, "We are proud to have gained the confidence of such a prestigious military organization."
ADC Etienne from COS (Le Commandement des Opérations Spéciales) stated, "I firmly believe in the success of this project which will pave the way to tremendous opportunities for drones in operational settings." ADC Jan, project leader from CEAM continued, "The extended flight hours allow a novel approach to missions and, even more importantly, open the door to missions that were previously inconceivable. The total flight distance capability for a miniature drone has now reached 600 km – this has never been seen before."
Small, electrical UAVs are a rapidly growing segment of the unmanned aircraft market and are especially suited to military applications. Battery powered UAVs have very limited flight times due to the relatively low specific energy (Watt-hours/kg) of existing rechargeable battery technologies.
Find suppliers of Power Systems for UAVs >