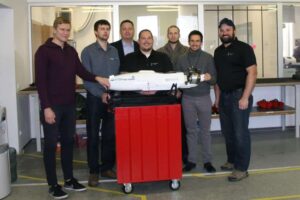 In anticipation of their Penguin C UAS delivery, NMC has taken part in a comprehensive 15 day training program at UAV Factory's Manufacturing Facility in Europe. Having successfully completed the course, they are now the first fully certified flight operators and flight technicians of this amazing aircraft in The United States.
UAV Factory has sold over 175 of their Penguin B platforms to almost 40 countries around the globe. The Penguin C being their full turnkey system which launched late last year, has already taken numerous orders and NMC's delivery will be the first in the U.S.
UAV Factory's Sales Director Rory Bauer says "We are pleased to have partnered with NMC in making the Penguin C the jewel of their fleet of UAV's at the College". "Both Carl and Rob excelled in the training program, and I am confident that they will be successful in all of their missions with the Penguin C for years to come".
"The Penguin C, is a high quality and reliable aircraft, with equally high standards in their training program". Carl Rocheleau- Chief UAS Instructor, Northwestern Michigan College.
Mr. Rocheleau goes on to say, having been a flight instructor for the past 14 years, this training program upholds the same professional standards and safety principles found within the best aviation companies in the World.
"UAV Factory has created a system that is easy to understand for veterans and rookie UAS pilots alike. Rob Dreer-Ass. Chief UAS Instructor at Northwestern Michigan College.
Mr. Dreer added, "I have spent 10 years in the UAV Industry working with some of the most high profile UAS platforms, and the Penguin C, with its cost and performance make it a serious contender for anyone looking to operate a fixed-wing long endurance aircraft".