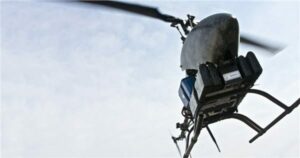 The Sanborn Map Company, Inc., a provider of geospatial technology solutions, has announced that several of its seasoned pilots have completed extensive unmanned aircraft system (UAS) training and now are qualified to perform commercial flights with the firm's UAS.
"Our pilots are among the most nation's most skilled at performing complex mapping missions," says Sanchit Agarwal, director of mapping operations. "Their vast knowledge and experience will seamlessly transfer to our UAS operations, putting Sanborn at the forefront of offering exceptional UAS services anywhere in the United States."
Sanborn already has successfully completed several commercial UAS data collection projects, as well as numerous test flights to validate the system's geospatial data collection capabilities. The efforts have resulted in unprecedented data accuracy and resolution, enabling a broad portfolio of services that include high-quality, engineering-grade digital terrain models (DTMs) exceeding 2-inch accuracy; multispectral frame imagery at sub-centimeter resolution; crisp, vibration-free video; high-resolution light detection and ranging (LiDAR) data; and thermal imaging data.
In addition to providing UAS flight services, Sanborn offers a full range of professional image processing and analysis services for all UAS imagery collected. As with all Sanborn offerings, the firm's UAS data is available as a licensed product within the firm's cloud service, allowing customers to cost-effectively store and securely access their data around the clock. Customers also can purchase and host the data on their own servers if desired.
Several functional examples of how Sanborn serves customers with its UAS include damage assessment and response efforts, site mapping, water resource mapping, volumetric assessment and asset estimation, highway survey and accident mapping, corridor asset review, assessment, and mapping, and precision agriculture.