NewBay Media has announced details of the 2015 National Drone Show, an exciting conference and expo featuring Unmanned Aerial Vehicles (UAV) video capture technology, to be held in the nation's capital. Held Dec. 2–3, 2015 in the Walter E. Washington Convention Center and co-located with NewBay Media's Government Video Expo, the National Drone Show will bring thousands of video professionals together for two days of cutting-edge discussions and demos of the latest UAV and video capture, management and delivery technologies and techniques.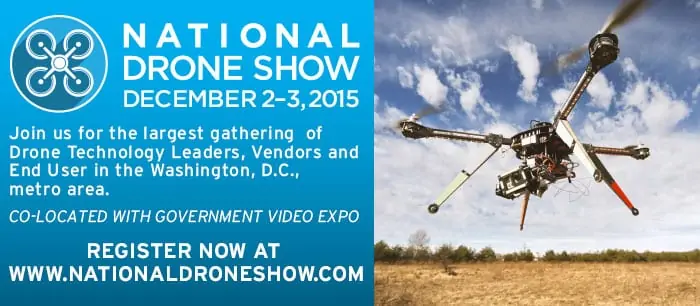 "Drones have exploded onto the radar of virtually every industry," said Carmel King, NewBay Media Executive Vice President, Broadcast & Video Group. "They raise fascinating business possibilities as well as new considerations involving regulation, security, privacy, and safety.
"This is also a marketplace of vast potential; by some estimates, sales of unmanned aerial systems are expected to exceed $8 billion by 2018, with the commercial sector exceeding $5 billion. We're pleased to bring the discussion about drones to the heart of the nation's capital."
The National Drone Show will feature a Drone Flying Cage; free-to-attend sessions on the exhibit floor covering the latest drone technologies and regulatory topics; and in-depth paid training sessions for UAV users produced in partnership with Stampede.
The show is the only such event that brings together an audience of thousands of video professionals from the Washington region's government, military, law enforcement, enterprise, broadcast, cable, production, and post production communities. Invited exhibitors include drone manufacturers, drone accessory equipment companies, and drone software and service providers.
"The National Drone Show will mark the first time that video professionals will have the opportunity to focus fully on the impact Unmanned Aerial Vehicles and Drone Video Systems can have on their operations," said Stampede President & COO Kevin Kelly (Stampede is the charter Gold Sponsor of the National Drone Show). "The show's presentations and training sessions will provide attendees with the information, tools and resources required to evolve their business to capitalize on this multibillion-dollar profit opportunity."
Instructors from Unmanned Vehicle University, the only university in the world licensed to offer graduate degree programs in Unmanned Systems Engineering, will conduct drone-operating demonstrations in the show's Flying Cage. Show attendees can experience firsthand the differing capabilities of various UAV manufacturers — such as DJI, AEE and XLY — and learn which is best suited for their enterprise's unique needs and requirements.
Early registrants for the National Drone Show and Government Video Expo include tech leaders from DCTV, Discovery Communications, U.S. Department of State, Department of Defense, ATF, FEMA, ICE, FBI, Homeland Security, NASA, Customs & Border Patrol, Department of Justice, Chesterfield Fire & EMS, The White House, TSA, NTSB, NGA, Army, Navy, Air Force and local and state officials from the D.C. Metropolitan Police Department, Baltimore, Alexandria, Fairfax, Bowie, and Prince Georges Country among others.
Exhibit/Sponsorship Opportunity: Jacqueline Gospodinoff: (212) 378-0493; [email protected]
FREE Attendee Registration: nationaldroneshow.com