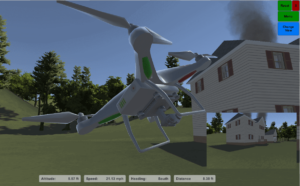 Cobb UAS, Inc., a provider of drone flight training and related services, has announced the launch of droneSim Pro UAS Flight Simulator, the company's new drone flight simulator software. Cobb UAS claims that droneSim Pro is the only simulator currently on the market that can be used with a simple USB game controller.
Designed and built by Cobb UAS and Little Arms Studios, droneSim Pro is based on the real world physics of drone flight. The simulator features three flight scenarios (open field, obstacle course, house fire), a high­end 3D graphic engine, drone and pilot views, realistic environment and lighting conditions, and real geological terrain. droneSim Pro is Windows and Mac compatible, and does not require a drone be present to run.
In addition, and in keeping with FAA guidelines of safe drone operation, droneSim Pro features visual warnings should the drone go beyond visual line­of­sight (VLOS) or above 400 feet.
"Considering the rapidly growing market and the endless possibilities for drone usage, especially in commercial drone flight, safety must be a priority," says Jason Hershcopf, President of Cobb UAS.
"Whether you're a novice or veteran drone pilot", he continues, "practicing your flight skills in the safe world of our new simulator will drastically reduce the risk of drone damage, or harm to property or people."