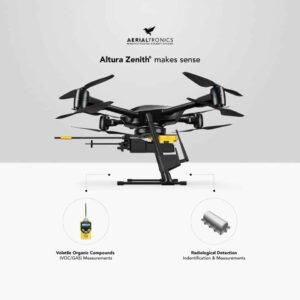 Aerialtronics, a leading manufacturer of commercial unmanned aircraft systems (UAS), has revealed a unique series of commercial drone sensors for the safety and security industry which include some of the first nuclear radiation and hazardous chemical detectors on the commercial market.
Developed by Aerialtronics, the Dupla Vista already allows pilots of the Altura Zenith UAS to switch between thermal infrared and day vision mode for specialist security missions. The addition of gas monitors and nuclear radiation sensors to their advanced thermal and day-vision cameras, means security professionals can act fast to evaluate, analyse and interpret data where there may be gas leaks, nuclear radiation or other potentially hazardous chemicals.
Robin van de Putte, founder and Chief of Product Strategy at Aerialtronics, said: "The Altura Zenith platform is already a field proven business asset due to its reliability, performance and ability to deliver results within a wide scope of commercial applications. Extending our payload range with the VOC monitor and nuclear radiation detection sensors adds the second sense and increases the potential of our system for businesses.
"It's not only about reliability and a high performing drone, but also its ability to work with existing data gathering tools and within existing workflows and methods. Businesses are interested in gathering multiple data streams during one or multiple flights. The Zenith UAS, with more than 16 compatible sensors, has the widest payload range compatible on the market, and, therefore, its potential use in different markets has strongly increased.
"Data offload and analysis can be done in real-time with our option to connect our Ground Control System (GCS) to 4G so that means it's really simple to distribute data and the right decisions on-site or even remotely."