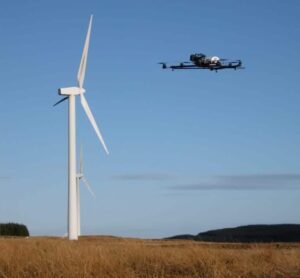 Cyberhawk Innovations, a provider of aerial inspection and surveying services using Unmanned Aerial Vehicles (UAVs), has announced that it has launched a commercial scale inspection solution for wind turbine blades. The launch of this service combines Cyberhawk's engineering expertise with its highly skilled UAV field crews, state-of-the-art inspection centre, defect measurement technique and cloud based asset management software, iHAWK.
The benefits of using UAVs for data capture in the renewables sector are substantial. Safety is significantly improved by minimising the need to work at height, and inspection speed is 3 to 4 times faster than rope access. Results obtained by Cyberhawk's new service are delivered in both an industry-standard report format and through iHAWK.
Cyberhawk's iHAWK Wind software enables clients to see the status of an entire windfarm at a glance, with clear traffic light colour status for each area of the blade and the ability to drill into the photographic evidence behind each defect classification. iHAWK Wind also enables users to select findings from a schematic view of the blade and to intuitively view all images, including those which do not show defects, sorted by height and by blade edge or side. This comprehensive approach ensures that a full record of each asset is available and facilitates year-on-year comparison.
iHAWK is not only compatible with turbine blades, but also nacelles and towers, as well as the transition piece for offshore structures.
The vast improvements in efficiency offered by UAVs are illustrated by a recent onshore project which Cyberhawk undertook for a major OEM. One Cyberhawk field team completed more than 30 wind turbine inspections in less than two weeks, with an average downtime of only 2-3 hours per turbine, which significantly maximised the client's turbine production time.
Craig Roberts, CEO at Cyberhawk, said: "Our wind turbine inspection service combines Cyberhawk's extensive inspection experience with our knowledge of renewables, gained through recruitment of key personnel and years spent delivering met mast inspections and developing our wind turbine blade inspection solution."
"iHAWK marks a ground-breaking step for the onshore and offshore wind sector and the next generation of asset management for this constantly evolving industry. With UAVs becoming increasingly adopted for commercial purposes, we expect the uptake of this new service to continue to grow rapidly."