SteadiDrone, a developer and manufacturer of advanced small unmanned aerial systems for commercial and industrial applications, has teamed up with Propeller to offer enhanced aerial data processing tools.
SteadiDrone's Aerial Data Service automatically processes photos from their range of ready to fly drone platforms into mapping, modeling and inspection data. The cloud based data can be accessed online and can also be integrated with existing business workflows and systems.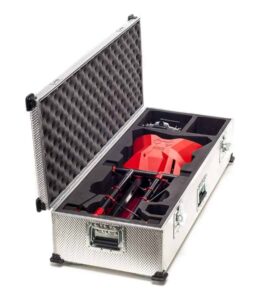 SteadiDrone released their latest UAS, VADER, earlier this year. Developed and designed as a heavy duty, long endurance multi-rotor sUAS, it offers best in class performance and features and is particularly suited to everyday commercial and industrial applications. The SteadiDrone VADER is an 'open' platform which is not payload, camera, sensor or even flight controller specific, is available in five configurations for different uses. Capable of carrying payloads of up to 25kg/55pound (depending on the build option), the VADER has both bottom and top payload bays for maximum flexibility.
Despite being almost one metre wide when open, the VADER folds down into a compact travel case and boasts a rapid deploy folding design, making it a practical solution when working in the field.