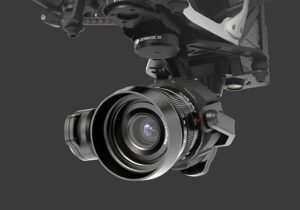 DJI, a developer of aerial imaging technology, has announced two new cameras for its DJI Inspire 1 professional unmanned aerial camera platform.
The new Zenmuse X5 represents the world's first commercially-available micro four thirds (M4/3) camera designed specifically for aerial use. With a large sensor, aerial image makers will be able to capture up to 13 stops of dynamic range, making it easy to capture high-resolution 16 megapixel photos or 4k, 24fps and 30fps videos in complex lighting environments.
Zenmuse X5 users will have even more options for capturing images through additional supported lenses and full wireless aperture and focus control. At the time of launch, the Zenmuse X5 will support 4 interchangeable lenses, including the DJI MFT 15mm f/1.7 ASPH lens, Panasonic Lumix 15mm G Leica DG Summilux f/1.7 ASPH lens, Olympus M.ZUIKO DIGITAL ED 12mm f/2.0 lens, and Olympus M.Zuiko 17mm f/1.8 lens. While the Zenmuse X5 is in flight, pilots can adjust both focus and aperture via the DJI GO app or through DJI's previously-announced Follow Focus system.
The camera's lightweight 340 gram (0.75 pound) body integrates with DJI's signature 3-axis Zenmuse gimbal technology, creating smooth video and stabilized long-exposure photos (up to 8 seconds).
"The professional applications of the Zenmuse X5 are almost endless," said Eric Cheng, DJI's Director of Aerial Imaging. "In addition to shooting professional-quality photos and 4K video, the new camera can be used to create high-quality aerial maps and 3D models, and can also help industrial teams get even more detail from their aerial imaging pursuits, for example, in utility inspection using a drone."
DJI has also announced the Zenmuse X5R camera, which shares the same sensor and lens compatibility with the X5, but records video both to an onboard microSD card as well as to a removable 512GB solid state disk (SSD) on the gimbal's top plate. The Zenmuse X5R records CinemaDNG (RAW) video to the SSD, and opens up lossless 4k video recording in a compact form factor with video bitrates averaging 1.7Gbps (with a maximum of 2.4Gbps).
The Zenmuse X5R also offers a brand-new D-LOG mode that offers a broader array of color correction options in post production.
To support the management of Zenmuse X5R Cinema DNG files, DJI will release software to edit and convert RAW camera footage. CineLight, which will be available when the Zenmuse X5R camera is released, simplifies users' workflows by offering offline proxy editing before converting the CinemaDNG files to ProRes.
"In order to achieve the quality of video produced by Zenmuse X5 and X5R, pilots used to have to spend many thousands of dollars for large, complicated aerial equipment," said Frank Wang, DJI CEO and Founder. "Now, pilots can simply mount the Zenmuse X5 series cameras to their Inspire 1, put on their props, get up in the air, and have full control of their shot while in flight. This saves valuable time on film sets and makes high quality imaging for industrial applications smaller, lighter and easier to manage."
By mounting a small, easy-to-install bracket, the Zenmuse X5 series cameras are fully compatible with existing DJI Inspire 1 platforms as an interchangeable option for the Inspire 1's standard Zenmuse X3 camera.