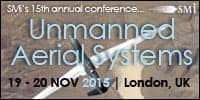 Learn more about the most recent developments in air space integration and find out about the next generation of Unmanned Aerial Systems this November at the 15th annual conference on Unmanned Aerial Systems in London.
The 15th annual conference on Unmanned Aerial Systems will examine the most highly relevant and niche developments within the field of UAS's and UAV's in relation to the Military. The conference shall provide a platform for the industry to discuss the legislative, physical and technological challenges in implementing UAV's and will assess the advancements in the commercial sector and how they can be applied to optimize Military operations.
Key Benefits of Attending:
• Examine the integration of UAVs into protected national and international air space
• Discuss the influence of commercial tech developments and give a critical analysis of the ramifications of these on the military
• Evaluate the importance of scale and the impact of small and nano-sized UAVs on training and operations
• Debate the use of autonomous UAVs in ISR, combat support and law enforcement
• Explore the measures being taken to counter UAS strikes
Those interested are advised to register before the 30th September 2015 to secure a place and benefit from the £100 DISCOUNT. For more information and to register, please visit www.uasconference.com/ust

Attendees of the 14th annual Unmanned Aerial Systems conference includes, but are not limited to Military and civilian personnel, Chief Executive Officers, Chief Operating Officers, Managing Directors, Vice Presidents, Director, Partners, Heads and Managers working in the following roles: ISR, ISTAR, NATO, Command, Control Communications and Computers, Airborne Network, Global Information Grid, Combat Air Patrol, LEMV, NAVAIR, Operation Systems Developments, Defence Common Ground System, Remotely Piloted Air Systems and Alliance Ground Surveillance.
In addition, this year's event will include an interactive half-day pre-conference workshop entitled Counter-UAS: The Next Arms Race? Hosted by Squadron Leader (Ret'd) Keven Gambold, CEO, Unmanned Experts on 18th November 2015.
For more information on the event, please visit www.uasconference.com/ust or contact Guy Hippisley Cox on +44 020 7827 6197 or email [email protected]