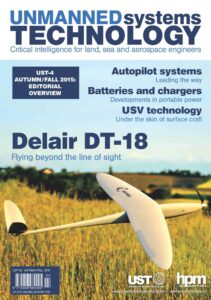 Publishing this September, issue 004 of Unmanned Systems Technology magazine is available to pre-order now.
Major articles include a cover story dossier of Delair-Tech's DT-18 and the cutting edge technology that enabled it to attain beyond the line of sight approval. Our engine dossier places Rotron / Gilo Industries under the spotlight. Focus articles cover autopilots / flight controllers & motion control systems. There are insights into the latest advances in batteries for unmanned applications and a look at innovative approaches to unmanned surface vehicles.
In total, 84 pages of critical intelligence for professionals actively working on unmanned systems and over 35 industry specific suppliers that could be of assistance. It all culminates in a great read, so to ensure you receive your copy, pre-order online today.