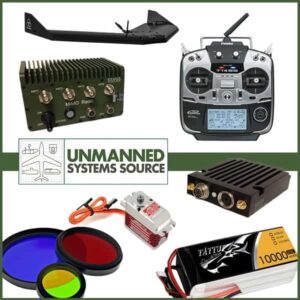 The product offering at Unmanned Systems Source continues to expand thanks to recent distribution partnerships with key businesses within the unmanned industry including: Silvus Technologies, GensAce/Tattu Batteries, Honeycomb Corporation, MidOpt, MKS Servo, Futaba, and more.
"The entire concept driving Unmanned Systems Source is to provide our customers a true one-stop-shop experience," said Jennifer Jerrick, CEO of Unmanned Systems Source. "We continue to build towards that goal by securing distribution agreements across the unmanned and remote sensing industry."
Visitors to Unmanned Systems Source can shop individual parts and components as well as entire systems for their application. With new products loaded daily, Unmanned Systems Source is quickly becoming a favorite destination for engineers, manufacturers, systems builders, buyers, and hobbyists across the industry.
"One of the most exciting aspects of the business is the increased interest from buyers and engineers who realize that it is much easier to shop one location to find what they need versus multiple vendors," said Jerrick. "We've also started working directly with companies to help with their supply chain needs. It's definitely an exciting time in the unmanned industry."
Visit Unmanned Systems Source today to find the parts and products you need for your unmanned and remote sensing applications.