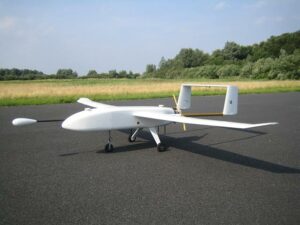 Routescene, a developer of 3D LiDAR technologies, and Hanseatic Aviation Solutions, a manufacturer of unmanned aerial vehicles (UAVs), have announced that they have developed a fixed-wing UAV integrated with Routescene's LidarPod 3D mapping technology.
Following in-depth customer research, Routescene identified a gap in the market for an unmanned aerial 3D mapping solution capable of flying long distances, particularly for use in large countries with great expanses of remote land such as Australia, USA, Canada and Eastern Europe. The applications of this integrated solution are diverse, from long distance surveys such as powerline inspections in the utilities sector, to biomass mapping of forests and geophysical surveys.
A successful maiden flight of the integrated Hanseatic S360 UAV and Routescene LidarPod took place in Bremen, Germany, to demonstrate the capability of the system and to collect sample data. The German aviation authorities were sufficiently confident in the system to give permission for the UAV to fly in the same circuit as manned aircraft.
The LidarPod is integrated internally within the S360 itself, rather than being wing-mounted. This reduces drag, thus enabling longer flight and survey times. Integration of the LidarPod into the nose cone of the S360 minimises the level of noise and vibration travelling from the rear mounted engine, ensuring the GNSS/INS is not adversely affected and enabling positioning to be as accurate as possible.
The S360 is a fixed-wing UAV, built for endurance long-distance flights and capable of operation in up to Force 7 winds, extending the operational window in which surveys can be performed. The S360 has significant payload capacity, enabling the integration of additional survey and geophysical sensors as well as the LidarPod.
Gert Riemersma, CEO of Routescene, said, "The affinity between our companies and the potential was obvious. Exploratory discussions with clients confirmed a real demand and we started development in earnest at the start of 2015. We have already seen significant interest from the forestry and geophysical exploration community."
Michael Schmidt, Managing Director of Hanseatic Aviation Solutions, stated, "Our combined expertise and experience is unique, Gert is a seasoned surveyor and has worked with LiDAR since 2008. He has used his wealth of practical experience with survey sensors, in particular GPS/INS, to develop the LidarPod into a market-changing survey and mapping solution. I have over 15 years experience in the aerospace and aviation industry, enabling us to jointly design and manufacture a practical and rigorous integrated product which will withstand the harsh environments we expect it will be operated in."