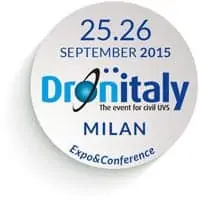 A comprehensive programme of over 20 conferences has been announced for Dronitaly 2015, Italy's premier event dedicated to professional applications of civilian drones, due to be held in Milan on 25 and 26 September 2015.
The conferences will cover a variety of topics from a technical-scientific angle that no other event in Italy has ever offered, covering wood volume estimation in arboriculture, the monitoring of bridges and viaducts, and the role of drones in the environmental monitoring activities of ARPA agencies; as well as the use of waterproof drones for marine and lake surveys, the choice between open and closed source systems for flight software, and many other topic besides.
The panel of speakers will include leading figures from the academic and research worlds, including: Prof. Tommaso Maggiore of the Department of Agricultural and Environmental Sciences, University of Milan; Prof. Piergiorgio Malerba, Professor of Bridge Theory and Design at the Polytechnic University of Milan; Prof. Vittorio Casella of the Department of Civil Engineering and Architecture, University of Pavia.
View the conference programme.
Furthermore, the event falls just a few days after the new ENAC regulations come into force, which will provide new indications for flights over city centres and areas that until now have been off-limits to drones. Regulations and the market will be covered in the two opening events on 25 September, namely the meeting with representatives of the Italian and European air regulatory authorities, ENAC, ENAV and EASA, and the event devoted to the presentation of the results of the market survey conducted by the Dronitaly-Doxa Observatory which, for the first time in Italy, will be offering specific data on the Italian drone industry.
In addition to the conferences, the Dronitaly exhibition stands will feature the companies' latest innovations (new aircrafts, avant-garde equipment, sensors, software), remote sensing, photogrammetry and aerial photography services; training programmes for aspiring and expert drone pilots, as well as insurance solutions to enable you to fly in compliance with the law.
Dronitaly 2015 will be an unmissable full immersion in the world of drones for sector operators (manufacturers, operators, flying schools), professionals and investors interested in understanding how unmanned vehicles are revolutionising the way certain professional and corporate activities are carried out.
Visit the event website, to purchase a reduced price entrance ticket, granting access to the exhibition and participation in the conferences.