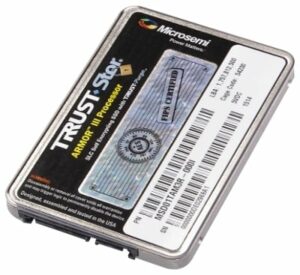 Microsemi Corporation, a provider of embedded systems and components, has announced the release of its highest security and capacity SATA solid state drive (SSD) for defense, intelligence, unmanned aerial vehicle and other defense-related network area storage (NAS) applications. As increased use of high resolution sensors is changing the way data is stored, higher density SSDs are needed. Microsemi is addressing this market need with its new data storage device in a compact 2.5-inch, 9.5mm form factor.
Microsemi's new MSD01TAM3R TRRUST-STOR 1 terabyte SSD is designed and built for extreme reliability and data security applications. The device's reliability is further enhanced with long life single-level cell (SLC) flash and advanced error correction code. By utilizing Microsemi's Armor memory processor technology, the company also enables long-term availability to its customers.
"This technology allows customers to upgrade or design new highly secure NAS systems in an extremely compact solution," said BJ Heggli, general manager for Microsemi's memory and storage business. "Microsemi's secure 1TB SSD is a leading-edge solution for high capacity secure NAS solutions that allows our team to further support our customers' increased security needs, while catering to their small form factor requirements."
The TRRUST-STOR self-encrypting drive (SED) offers powerful and flexible key management methods and advanced security features powered by Microsemi's Armor processor technology. For sensitive applications, the encryption key can be erased in less than 30 milliseconds (ms), and a second security layer can be activated to erase the entire storage media in less than 10 seconds, rendering data forensically unrecoverable.
"Microsemi's 1TB self-encrypting SSD provides systems and security engineers with a single solution addressing the most demanding data reliability and protection requirements," said Charlie Leader, vice president and general manager for Microsemi's Power & Microelectronics Group. "We are committed to designing and delivering industry-leading highly rugged, miniaturized and secure storage systems where data protection is mission critical."
Key features include:
Capacity: 1TB reliable SLC NAND flash
200 megabyte (MB)/second sustained read/write speed
Key management: multiple modes, including loadable advanced encryption standard (AES) keys
Hardware-based AES-256 XTS encryption, protecting sensitive data
DS-101 key fill port with key encryption key (KEK) and black key support
TRRUST-Purge™ clears encryption key in less than 30ms
Hardware based fast erase, erasing the entire drive in less than 10 seconds with validation
Industrial temperature
Leading-edge fast sanitization speed
Mil sanitization methods/protocols
Self-destruct capability
Hardware authentication (optional) enables higher levels of security
U.S.-made with full configuration control