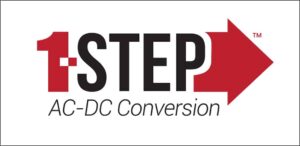 Marotta Controls, a designer and manufacturer of precision control systems, has announced that it has applied for a key patent with the U.S. Patent and Trademark Office covering its most recent innovation in power conversion technology. The patent-pending invention is a high-power AC to DC converter that provides isolated and regulated conversion in a single step at unity power factor. This new power converter has broad applications across multiple markets and platforms and has been named "1-STEP AC-DC Conversion".
The ultimate goal for all power converters is to achieve 'unity power factor' or 'power factor of one'. When power factor is less than one, more electrical current is passed through a system than is used, thereby wasting power.
Marotta's new technology delivers unity power factor at full and partial loads with total harmonic distortion levels below three percent (<3%). Load sharing allows the design to modularly scale to 20 kilowatts and beyond, delivering high power conversion efficiency up to 95%. 1-STEP provides significant improvement in weight, cost and complexity when compared with the present art in three phase active power rectification and conversion.
"High power conversion efficiency is particularly critical in aerospace and military applications, where designers and system integrators face increasing demands to optimize size, weight and power for smaller and smarter platforms with greater capabilities," said Michael Leahan, senior vice president and chief sales officer. "1-STEP technology allows us to offer our customers the highest power conversion efficiency available for their critical applications. We are continuing to evaluate the market potential for this new invention beyond the military environment."
"The need for high efficiency conversion has and will continue to be a significant driver for innovation through improving power conversion," said Steve Fox, vice president and chief technology officer at Marotta. "We have spent over two years designing and developing this new technology, and discovered a novel approach to crack the pervasive conversion efficiency challenge. The new conversion technology filed in this patent not only improves high power conversion efficiency, it also paves the way for us to continue the design and discovery process for the next generation of power conversion technologies."
Read the Technical Paper on the 1-STEP AC-DC Conversion solution (opens in PDF).