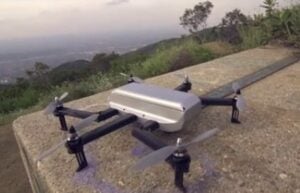 PolyHelo, a developer of software and hardware for unmanned aerial systems (UAS), has announced that it has successfully Kickstarted the C-mi, an all-in-one camera drone designed with professional features for real-world consumer use. C-mi combines professional drone technology with a consumer-minded user interface, making the system accessible to everyday drone enthusiasts.
PolyHelo's Kickstarter campaign has secured a Kickstarter "Staff Pick" and has reached its campaign goal.
PolyHelo's CEO, Mark Richardson, describes C-mi as the "pro-drone for everyone."
"C-mi is a lot of fun. It has many professional features, can operate itself and takes professional footage that can be shared in real time," said Richardson. "You don't have to think about operating C-mi."
C-mi's features include:
Multi Axis Gimbal – keeps video centered and steady on what the user wants to shoot
Retractable Camera – high-definition, built-in camera retracts at landing and liftoff, keeping it safe and placing the camera so that landing legs are out of shot during flight
Portable Design – C-mi's legs detach for fast storage and safe keeping
Robust Housing – hardware designed to stand the abuse of everyday use in real-life field applications
GPS Tracking – C-mi has the option to be used with water-proof GPS wearable trackers
C-mi provides four main modes that control both the flyer and camera from a mobile device using a single, proprietary, intuitive iOS or Android app. The modes are: follow, orbit, pano and manual. The first three modes follow preset patterns that allow users to focus on capturing images or a video rather than flying or managing the drone. The app also allows real-time sharing of images and video to social media platforms.