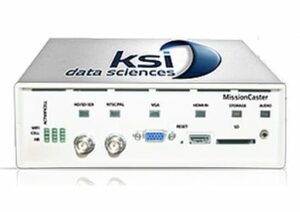 KSI Data Sciences, a provider of data management solutions, has announced the release of its unique video and data solution for commercial drones and other robotic platforms.
Combining ease of use, mobility, near zero latency, LTE integration, and an ability to work with any drone, MissionCaster delivers near real time video and data. KSI are highly experienced in the handling of data from aerial platforms, having managed almost all video and data from UAVs over Iraq and Afghanistan over a period of 10 years.
The MissionCaster solution works with any drone or robotic platform (air, ground, surface, subsurface). The hardware component, MissionCaster HD, accepts up to two simultaneous inputs of virtually any type – HD/SD Digital, NTSC/PAL, VGA, and HDMI. It includes up to 512GB of local storage. Battery or mains powered and integrated with LTE networks from AT&T or Verizon, it is the first truly mobile solution to broadcast securely from anywhere to anywhere with less than a second of latency.
The service is scalable from one to thousands of viewers. Integrating with Amazon Web Services, Verizon Cloud or the customer's own cloud infrastructure, delivers the flexibility and scalability.
MissionCaster accepts all GPS and payload data and delivers that data in a standard MISP compliant format. For operators and pilots, mission management features include email or SMS-based invites, real-time National Weather Service data, and integrated map views displaying platform location and camera point-of-interest.
Taking advantage of the ultra low latency capability, the integrated audio channel allows real-time two-way voice communication between the operator and selected remote viewers.
MissionCaster's unique telemetry and data-handling capabilities allow for external web service interfaces for integration into map tools such as ESRI or Google Earth. Finally, missions are archived and searchable for live or archive playback via a web browser.
"KSI's team has been at the forefront of UAS video and data since 2002. We are excited to be adopting the MissionCaster Solution across all our state's unmanned flight operations," said Kyle Snyder, Director of the Next Generation Air Transportation Center, Raleigh, North Carolina.
"It's all about the data. The only reason to use a drone or robot is for the data they produce or the view they can give you. MissionCaster allows you to complete the picture with video, telemetry, and payload data that can be securely shared with your users anywhere, any time. For those wanting more, analytics, collaboration, chain-of-custody, and multi-feed fusion, all I can say is, watch this space," said Jason Barton, Founder of KSI Data Sciences.
"Our announcement today is the result of a decade's experience managing video and telemetry from drones in the most difficult environments. Translating that expertise into a solution that masks all the complexity and delivers exactly what our customers have been telling us they want is truly satisfying," added Jon Gaster, Co-Founder and CEO of KSI.