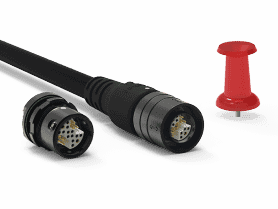 Fischer Connectors, a global manufacturer of high performance circular connectors and cable assembly solutions, has announced that the pin socket version of their MiniMax™ Series is now available with 24 contacts.
The Fischer MiniMax™ Series is an innovative, first-to-market, high density miniature connector solution with a unique combination of power and signal contacts, enabling more functionality into smaller devices and lowering the total cost of ownership.
With the new product range extension, the Fischer MiniMax™ Series is now commercially available both in 19 and 24 pin socket configuration, allowing more flexibility, where space and weight restrictions play a key role.
Fischer MiniMax™ connectors increase the performance of miniature rugged devices, making them ideally suited for handheld or body-worn applications, for instrumentation and for test equipment where user-friendliness and easy handling are a must.