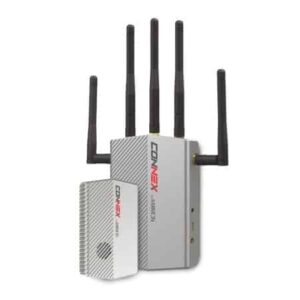 Amimon, a provider of wireless HD video solutions, has introduced its new CONNEX high-performance wireless HD video link for multirotor drone platforms. Designed for the rapidly expanding global drone market, CONNEX is a breakthrough transmission solution that makes it easy and affordable for professional drone users to outfit virtually any size and shape aerial drone with long-range full-HD video transmission capabilities with zero latency.
"Amimon wireless HD video transmission technology, which is globally recognized for exceptional performance and reliability in the film and broadcast industries, provided the core technology for our new CONNEX solution," said Ram Ofir, Amimon's CEO. "With its superior performance and affordable price, CONNEX brings extended HD video transmission range with zero latency to a much broader group of users and applications. It is a game changer for the aerial drone market."
"We have been using Amimon technology for some time. The ability to transmit the camera image with a clear, robust, and zero latency wireless video link enables videographers to precisely and effectively generate quality content," said Tabb Firchau, President, Freefly. "By pairing CONNEX with the Cinestar, we gained the ability to transmit HD live with outstanding video quality at an attractive price point. Freefly is proud to be among the first to offer CONNEX solutions for the UAV market."
CONNEX further expands Amimon's offering of HD wireless video solutions with zero latency for the UAV market. Amimon's technology is already being successfully used in film and television productions in industry leading transmitters such as the Teradek Bolt and Paralinx Tomahawk.
The innovative plug-and-fly CONNEX features unique video modem technology. It utilizes robust 5GHz transmission frequency with sophisticated 2×5 MIMO and automatic channel selection to ensure resilient connectivity at all times — free from UAV control interference and other 2.4GHz radio links. A CONNEX system supports multicasting up to four screens simultaneously, while maintaining excellent HD video. CONNEX can transmit HD video up to 1000 meters (3000 ft) to the ground unit and is capable of displaying telemetry information using its built in OSD as well as sending control commands via an S-Bus protocol to the gimbal in the air unit. The small and lightweight package includes all antennas, cables and connectors required for air and ground unit setup, allowing for quick plug-and-fly experience on a wide assortment of aerial drones.
With full HD video quality and zero-latency transmission, CONNEX is an ideal solution for broadcast, inspection, aerial photography, crowd control, and myriad applications that require control of both the camera and drone in real time.
View suppliers of Video Recording, Data Acquisition & Streaming solutions for unmanned systems.