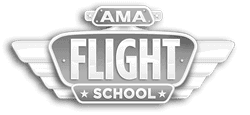 The Academy of Model Aeronautics (AMA), an organization that promotes the development of model aviation, has announced the latest addition to its AMA Flight School online learning center: small Unmanned Aircraft Systems (sUAS) education with partner Fly Robotics.
The Fly Robotics team brings with it an unprecedented portfolio of UAS experience and instruction. With multiple Department of Defense certified flight instructors and national champions, Fly Robotics will be an integral piece of AMA Flight School, serving as the sUAS online course and regional flight school provider. Additionally, Fly Robotics has provided basic safety and introductory sUAS content for anyone interested in learning more about drones.
Based upon the criteria presented in FAA's sUAS Notice of Proposed Rulemaking, this course will be of great value to anyone wanting to get a head start on the upcoming FAA sUAS commercial use certification test, or those wanting to learn safe unmanned aircraft operations.
The AMA celebrates nearly 80 years of safe operations in the National Airspace System and continues, through educational content, to provide the knowledge necessary to safely fly a drone or sUAS.