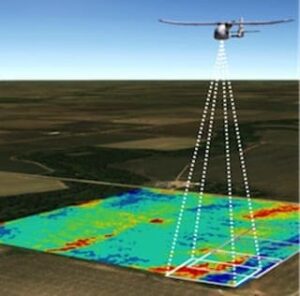 SLANTRANGE, Inc., a drone-based agricultural crop sensor and data analytics company, has announced that it has been awarded first place in the Innovative World Technologies category at the 7th Annual SXSW Accelerator Competition, held in Austin, Texas.
"SXSW was a fantastic experience for us and we were honored to be included among such an elite group of startups from all over the world. To win and have our vision validated by experts from finance, industry, and technology is humbling," said SLANTRANGE CEO Mike Ritter.
"Our patent pending technology can transform agriculture with comprehensive, timely, and accurate new crop health information that is unavailable elsewhere. Our system enables farmers to respond more quickly and accurately to emerging health conditions, resulting in improved yields with fewer inputs and reduced impact to the environment," added Mr. Ritter.
SLANTRANGE's sensor and analytics system, designed for use on 3rd party drone aircraft, measures multiple crop health indicators invisible to the naked eye, automatically adjusts for changing atmospheric conditions, and provides results within minutes of the drone's flight for same-day treatment if necessary. The system also produces crop growth records supporting big data farm optimization models that seek to better understand correlations between the many variables that affect crop yields.
"SLANTRANGE's technology offers solutions for many of today's agricultural challenges. We look forward to making significant contributions in the multi-billion dollar agriculture industry moving forward," said Mr. Ritter.