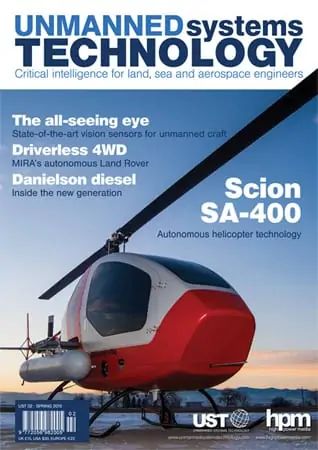 Following the successful debut of Unmanned Systems Technology magazine in November 2014, issue 2 is now available to order.
Purchase Issue 2 Annual Subscription
The 84-page issue is packed with in-depth research insights and professional peer reviews, including technical dossiers investigating the technology behind the Scion SA-400 Optionally Piloted Helicopter, the Danielson Trident 100 TD2 UAV engine and the MIRA MACE Unmanned Ground Vehicle (UGV).
Two Focus topics take a detailed look into the suitability of additive manufacturing for unmanned systems, and how developments in imaging technology are paving the way for more integrated on-board vision.
In addition, Insights articles examine unmanned security and safety systems, and the new developments surrounding marine UUVs being used in our oceans.
Plus, there's a roundup of the latest technological news and developments, an interview with the head of BMW's autonomous vehicle programme, and a detailed look at Wankel rotary engines.
Unmanned Systems Technology is a must-have resource for both professionals working within the within the unmanned systems industry and those who simply have an interest in the technology behind these platforms. To ensure you receive your personal copy of Issue 2 when it is first released, subscribe online today.