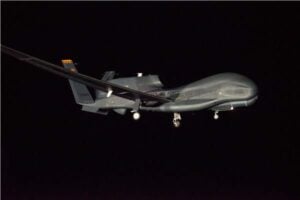 An RQ-4 Global Hawk unmanned aircraft system, manufactured by Northrop Grumman Corporation, has landed at the Avalon Airport in Australia for display at the Australian International Air Show.
"This is the first time that a Global Hawk has flown into an international air show," said Ian Irving, chief executive for Northrop Grumman Australia. "This really speaks to the maturity and reliability of the system. As the Royal Australian Air Force seeks to procure the MQ-4C Triton UAS, a variant based on Global Hawk, they will be able to use the system's capabilities to transform the way they conduct maritime surveillance missions."
Last year, Australian Prime Minister Tony Abbott announced the defence force's intent to purchase the Triton UAS for high-altitude, long-endurance surveillance missions to augment the country's current P-8A Poseidon maritime patrol aircraft. The system's ability to conduct high-altitude surveillance missions for greater than 30 hours is ideally suited for the vast Asia-Pacific region.
Northrop Grumman is the prime contractor for the Triton program and is currently working with the U.S. Navy to develop the system for operational use by 2017.
Mary Petryszyn, vice president, International at Northrop Grumman Aerospace Systems, said Global Hawk's arrival is another milestone to add to the list of major advancements for Northrop Grumman's family of Global Hawk UAS.
"Korea, Australia and Japan have all made major decisions leading to the expected acquisition of either Global Hawk or Triton in the last year," said Petryszyn. "This is testament to the value and performance of these systems, and to the tremendous amount of actionable information they deliver to military commanders and government agencies."