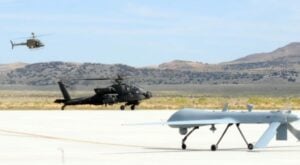 The US Army has announced a new course that aims to develop integration of manned and unmanned systems. The course will be delivered at Fort Rucker, Alabama, the primary training base for Army Aviation, and will pair up Air Cavalry leaders with the operators of unmanned aerial systems.
The Aviation Reconnaissance Course was discussed at the Association of the U.S. Army's "Hot Topics" conference on aviation, during a panel discussion titled "The Human Dimension: Developing Agile Aviation Leaders that Thrive in Uncertainty."
One of the objectives of the new two-week class will be to establish synergy between pilots and unmanned aerial systems, or UAS, operators, explained panel member Col. David Francis, deputy commander of the Aviation Center of Excellence at Fort Rucker.
"The intent is to have our pilots and our unmanned aero scouts — our unmanned system operators — do that synergy I was talking about before," Francis said. "They plan the mission together, they brief the mission together, and then they execute the mission together — in concert as a maneuver team — not just as a UAS up there flying as an ISR [intelligence, surveillance and reconnaissance] asset."
Three initial classes are planned for this year with about 24 students each. Warrant officers, commissioned officers and UAS operators will all attend the course. The pilots will be leaders going into cavalry organizations, Francis said.
The Army's retirement of the OH-58 Kiowa scout helicopter was an impetus for the course, he said. In place of the Kiowa aircraft, the Army plans to scout using AH-64 Apaches teamed with unmanned aircraft.
"We want to make sure that we retain the fundamental reconnaissance role in those organizations, so we felt it necessary to generate this course," Francis said after the panel concluded.
"There's a Cav Leader's Course at Fort Benning for our ground cavalry squadrons; we're doing the same thing for our aviation squadrons," he said.
Manned-unmanned teaming will be an "integrated part of our maneuver" for Army Aviation in the future, Francis said.
In the past, manned and unmanned pairing had been a "pick-up game," he said.
"UASs are not just going to be ISR assets," Francis said, "but an additional capability within aviation maneuver as we execute future combined-arms maneuver, wide-area security and special operations missions in the future.
"It's key to understand that distinction — UAS coming into our formations is part of our maneuver.
"That is going to require developing our leaders to figure out how to do that. We're really just on the leading edge of that — and figuring out adaptive ways to employ that capability to our formations to meet our obligations to the ground force commander," Francis said.
UAS operators are now considered much more than just equipment operators, he said.
"We do not view our unmanned operators as 'operators.' In fact, we're even trying to change the name to 'unmanned aero scout.'
"They are scouts that will be integrated in and will take part in the aircrew mission brief and team briefs that go on as we execute aviation maneuver in the future," he said. "And they are going to know the fundamentals of reconnaissance and the fundamentals of security as they go out and execute operations."
The Aviation Recon Leader's Course will introduce gaming as part of simulations technology to train students. "As Gen. Brown said, we're very good at simulation — we have all kinds of simulation experience out there — but we're really on the leading edge of employing gaming, which is our future," Francis said.
"Aviation has understood the value of simulation for a long time," said Lt. Gen. Robert Brown, U.S. Army Training and Doctrine Command's deputy commanding general for Combined Arms, and commander of the Combined Arms Center at Fort Leavenworth, Kansas.
The only way to replicate complexity is through simulation, Brown said.
"We're looking at ways to integrate Advanced Situational Awareness Training — working with the Advanced Asymmetric Warfare Group — to incorporate into our [program(s) of instruction] and lesson plans to train our leaders to be adaptive," Brown said.
The goal is to train agile and adaptive leaders, he emphasized: to optimize human performance.
"We say every Soldier is a sensor; every Soldier is a scout," Brown said, "but we don't teach it."
Training in the human dimension should enhance focus and concentration skills, he said, and emphasize goal-setting.
"The impact of the human dimension — the impact of a few human beings — is greater than ever before," Brown said. "We need leaders who are comfortable in conditions of ambiguity and chaos and uncertainty."
That thought was reiterated by Brig. Gen. William Gayler, director of the Officer Personnel Management Directorate at the Human Resources Command at Fort Knox, Kentucky.
"We need a holistic look at how we train and what we train," Gayler said.
The Army needs to create multiple paths to get leaders to the point where they can comfortably deal with a complex, chaotic and ambiguous environment. "You do that through a series of broadening opportunities and multiple experiences," he said.
"Yes we want the best equipment, the best technology," Brown said, but stressed that to sustain that equipment and operate it, the Army needs aviators trained in the human dimension.