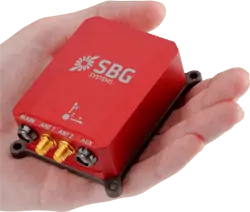 SBG Systems, a supplier of high-performance motion sensing solutions, has announced that its new Ellipse-D miniature Inertial Navigation System is now available for order.
The Ellipse-D features an embedded dual-antenna survey-grade GNSS receiver for unmatched orientation and position accuracy, providing roll, pitch, heading, heave, and navigation data.
The sensor is immune to magnetic disturbances and provides accurate heading even under low dynamics. Incorporating a post-processing capability, the Ellipse-D provides a roll and pitch accuracy of 0.1°, making it SBG's most accurate sensor yet.
Accurate, robust and magnetic-free, the Ellipse-D's survey-grade performance makes it an ideal navigation solution for manned and unmanned marine, land and aerospace applications.