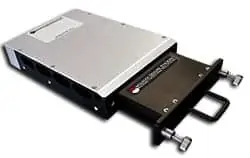 Mountain Secure Systems (MSS), a supplier of rugged electronic solutions, has announced that it has shipped an order of removable, ruggedized solid state drives (SSDs) to a leading defense contractor, which will be integrated into a pod system for the MQ-9 Reaper Drone. The MQ-9 drone is utilized by the U.S. military to monitor U.S. borders and gather video surveillance intelligence.
The removable 2.5" SATA memory devices mate with a customized docking bay and are environmentally sealed for protection against rapid decompression, EMI, humidity, dust, salt fog, immersion and condensation. The hot swappable device includes mini mil-circular connectors (rated for 100,000 insertion cycles), +28VDC power, EMI filters, and captive thumb screws for docking.
"Mountain Secure Systems is proud to be a part of this important program," said Ken Dickson, general manager of Mountain Secure Systems. "Our ruggedized data storage solutions have been extremely dependable for both commercial and military customers."
MSS also offers in-flight entertainment (IFE) solutions for the commercial aircraft market, as well as legacy interface conversion solutions for customers in the aerospace and defense industries. In addition, MSS provides outdoor wireless network solutions for video, voice and data applications.