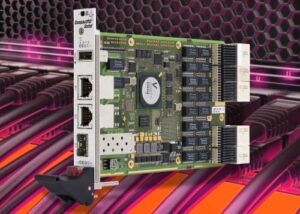 MEN Micro Inc., a provider of embedded computing and I/O solutions for mission-critical industrial, mobile and harsh environment applications, has released the new G101, a managed 3U flexible multiport Gigabit Ethernet switch, with a 29 GBit/s switch matrix, implemented as a CompactPCI Serial board.
Specifically designed for rugged mobile communication in harsh environments, the new Ethernet switch conforms to the EN 50155 railway standard. The high bandwidth of the 29 GBit Switch matrix, robust design and wide operating temperature of -40 degrees C to +85 degrees C make MEN Micro's new G101 ideally suited for unmanned systems such as UAVs.
The G101 features a total of up to 25 Gigabit Ethernet ports. They can all be connected to the rear or three can be used on the front, either as three robust M12 connectors or as two RJ45 connectors with a 2.5 Gb SFP interface. This interface can be used as a high speed uplink via fiber technology.
The 29 GBit switch matrix incorporates different software protocols to ensure high speed and high efficiency and the large software pool enables various protocols like security, synchronous Ethernet and stability as well as for temperature needs. The G101 supports IEEE1588v2 on ports 1 to 12 and EEE (Energy Efficient Ethernet) as a standard on all ports.
Special ring protocols, including RSTP, MSTP, G.8031/G8032v2 as well as transmission technologies like PB-EVC-(Provider Backbone Ethernet Virtual Connection)—which are usually just found in the carrier grade area—round out the outstanding features of this new Ethernet switch.
The switch is fault tolerant and restores itself on its own. If a link is temporarily unavailable, frames are sent via backup/redundant links (spanning a tree protocol/link aggregation) avoiding any data loss. Its built-in test mechanisms further enhance the G101 reliability in a communication system.
Technical Specifications:
Managed 3U rugged Gigabit Ethernet switch
CompactPCI Serial design
29 Gbit/s carrier grade switch matrix
Up to 25 Gigabit Ethernet ports; all on rear I/O or 3 on front and 22 on rear
Wide -40 degrees C to +85 degrees C operating temperature
EN 50155 compliant; rugged construction for reliable operation in harsh environments