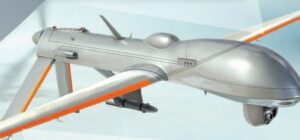 Battelle, a technology research and development organisation, has successfully performed a wind tunnel test on its new in-flight ice protection system for unmanned aerial vehicles, and ultimately other aircraft.
Battelle's HeatCoat technology was integrated with representative wing and engine inlet test articles, and then placed into a leading aircraft manufacturer's research aero-icing tunnel, a chamber designed to generate the icing conditions encountered during flight. Temperatures were as low as -22 degrees Fahrenheit with air speeds up to 182 Knots. After four days of demonstration and testing, the results showcased HeatCoat's ability to perform anti-icing and de-icing functions successfully.
Battelle's ice protection technology utilizes a carbon nanotube coating that can be sprayed onto an aircraft surface much like paint, creating a heated area when power is applied. An intelligent controller monitors the heater performance and applies only the power levels required for the flight conditions. This method is lighter than traditional ice protection systems, can operate on less power, has no moving parts, and can be retrofitted to existing assets.
"Battelle has made a long term investment in this technology because we think it is so promising," said Ron Gorenflo HeatCoat Systems Product Manager. "Our recent tests validated improvements we've made and prove that we are ready to go from a Technology Readiness Level (TRL) 6 on to a TRL 7 once we identify a key partner to help complete the next step of this process."
Battelle's product is radically different from other ice protection systems, such as bleed air (heating the surface with hot engine air), pneumatic boots (inflating rubber boots to break ice from the surface) or weeping wings (releasing toxic antifreeze fluid from the wing). These more traditional solutions can be too complex, too heavy or draw too much power to be effective, especially on unmanned aerial vehicles (UAVs), which have limited payload and power capacities.
The program started in January 2010, when Battelle scientists completed an internally-funded research and development project in which they conducted initial feasibility tests of the coating in an icing tunnel at conditions found in FAA Regulation 25 Appendix C, "Flight Into Known Icing Conditions." Success there led to the conclusion that a carbon nanotube-based coating was a potentially transformative technology — one that could provide an affordable, durable, lightweight ice protection solution for any aerial platform that needs it.
The success of this phase of testing means that Battelle's unique carbon nanotube coating is now ready for flight demonstration.