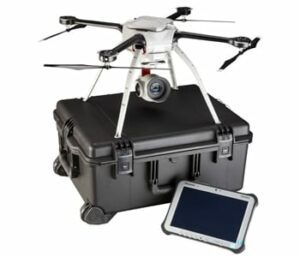 Aeryon Labs Inc., a manufacturer of VTOL small Unmanned Aerial Systems (sUAS), has introduced the Aeryon HDZoom30 imaging payload. The Aeryon HDZoom30 payload, delivers powerful aerial image capture capabilities including:
Up to 30x optical zoom
Up to 60x digitally-enhanced zoom
1080p recorded video
20MP still image resolution
The Aeryon HDZoom30 is a fully-integrated, ruggedized, high performance electro-optical camera payload designed for demanding applications that require clear and precise images. The payload offers 3-axis stabilization using brushless motors to ensure that detailed and accurate video and photographs are captured, even under the most demanding environmental conditions.
"The Aeryon HDZoom30 payload revolutionizes aerial image capture," said Dave Kroetsch, President and CEO of Aeryon Labs. "During the last 8 years of pioneering small UAS, and thousands of flight hours on the Aeryon sUAS platform, we have witnessed a consistent need for increasingly precise, high-resolution imagery across our diverse customer base. The HDZoom30 raises the bar for the industry."
For commercial sUAS operators, the Aeryon HDZoom30 enables close inspection tasks on critical infrastructure such as power lines, flare stacks, and cellular towers, by delivering detailed, high-resolution images without bringing the aircraft into unnecessarily close proximity to the structure. For instance, using the Aeryon HDZoom30 it is possible to read the serial number on a power line insulator from a safe distance of 100 ft. (30 m).
"As one of the first sUAS named in a FAA Section 333 exemption request, the Aeryon SkyRanger currently enables Aetos Group to deliver robust and reliable aerial inspection services to customers in the petrochemical industry", commented Nick Harwood, VP Operations, Aetos Group. "We look forward to adding the Aeryon HDZoom30 to our portfolio, and offering our customers a safer, more effective way to capture high-resolution images to enhance their maintenance and reliability programs".
In Tactical ISR (Intelligence, Surveillance, and Reconnaissance) situations, police and military teams can keep eyes-on-target from a maximum stand-off distance ensuring safe and covert operations. The Aeryon HDZoom30 increases operational effectiveness by capturing distant targets in great detail. For example, Aeryon SkyRanger operators can now read a license plate and recognize a face from a distance of over 1000 ft. (300 m).
The Aeryon HDZoom30 integrates seamlessly with the Aeryon SkyRanger sUAS platform and meets the same demanding mission specifications, such as environmental tolerance of -4°F to 122°F (-20°C to 50°C) and a secure, all-digital data transmission network with real-time metadata.