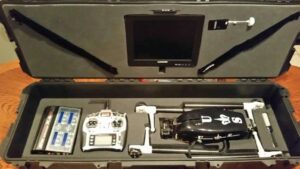 Unlimited Aerial Systems, a newly-formed company founded by two partners with over 30 years of UAV and Aviation experience, has released the first photos of their "Boomerang" unmanned aerial platform.
Unlimited Aerial Systems' goal was to provide a dependable, rugged, deployable quadrotor platform at a cost-effective price point, and the final result of their development was the tested and proven Boomerang UAS. Boomerang offers a long flight endurance, dual GPS, carbon fiber booms and props, and a custom deployable box.
The custom case also adds function as well as form, serving as the FPV station and a "workstation" for mission planning and execution.
Much interest has developed in the system, especially among the grape-growing industry, and UAS will be launching their new platform at the Unified Wine and Grape Symposium.