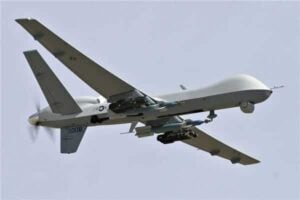 General Atomics Aeronautical Systems, Inc. (GA-ASI) has announced that a Predator® B/MQ-9 Reaper® RPA has reached a record 20,000 flight hours on a single aircraft, signifying the highest flight time of any Predator B. The milestone was achieved while performing a 17-hour combat mission in support of Operation Enduring Freedom in Afghanistan.
"Accumulating 20,000 hours on a lone Predator B airframe is a major engineering milestone that can be traced back to our talented and resourceful GA-ASI Engineering team, who continues to develop highly resilient, reliable, and affordable platforms that continue to keep warfighters safe every day overseas," said Linden P. Blue, CEO, GA-ASI.
The record-breaking aircraft flew its first flight on January 31, 2008 and has accumulated 1,355 flights, with almost 100-percent of those flights having been flown in direct support of Overseas Contingency Operations (OCO).
The multi-mission Predator B is a long-endurance, medium-high-altitude RPA that can be used for surveillance, military reconnaissance, and targeting missions. The current aircraft configuration features an extensive payload capacity (850 lb/386 kg internally, 3,000 lb/1361 kg externally), with a maximum gross takeoff weight of 10,500 lb/4763 kg, is powered by a Honeywell turboprop engine, has a maximum altitude of 50,000 feet/15240 meters, and can stay aloft for up to 27 hours. The standard payload configuration includes a high-definition, optical Infrared (IR) video system and a high-resolution ground imaging radar (SAR). The radar also has Ground Moving Target Indicator (GMTI) and Maritime Wide-area Search (MWAS) modes.
Predator B is currently operational with the U.S. Air Force, Royal Air Force, and French Air Force as MQ-9 Reaper, and with the Italian Air Force as MQ-9. The aircraft provides unparalleled close air support and persistent situational awareness over land or sea to coalition forces, demonstrating proven NATO interoperability. Additionally, Predator B is in use by the U.S. Department of Homeland Security and NASA. Some 230 Predator B aircraft have amassed more than 942,000 flight hours since the RPA's first flight in 2001.