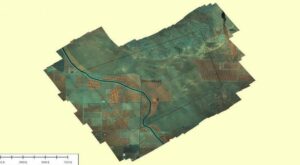 FalconScan LLC, a provider of aerial imaging solutions, has announced the release of its FalconScan Camera System.
FalconScan offers customers a turnkey operation that delivers high spatial resolution images which benefit from the unique spectral characteristics of the system. It offers off-the-shelf components and software that supplies a complete and affordable aerial data acquisition solution right out of the box. Its size, weight and automated data collection system allows operation from either manned or unmanned platforms and delivers finished product into clients' hands as quickly as the images can be processed in the cloud and downloaded to multiple locations.
Due to the small footprint, FalconScan can be transported by hand to any location and operated from almost any aircraft. The self-contained camera, navigation and tablet control system installs in minutes and operates from aircraft power. Flight lines are automatically generated from the areas of interest and the camera collects the images without assistance, making it is a strong candidate for a UAV payload.
Benefits include the ability to use FalconScan with other remote sensing instruments on the same aircraft and fuse the resulting data sets to create powerful mapped images. The information contained in the pictures can be represented as 2 or 3D on the computer screen and imported into any GIS system. Commercial uses include high definition base mapping for agriculture, forestry, water quality, oil and gas corridor monitoring, and the rapid generation of urban landscapes.