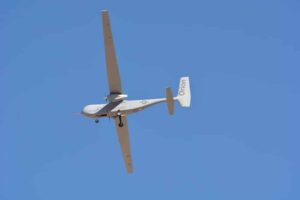 Aurora Flight Sciences has announced that it has filed for an official world endurance record following an 80 hour flight by its Orion unmanned aircraft system (UAS).
The previous official record of 30.5 hours was set in 2001 by the Global Hawk UAS.
Observers from the National Aeronautic Association (NAA) were on hand to inspect the aircraft and witness the takeoff on Friday, December 5, 2014. They supervised the entire flight and witnessed the landing on Monday, December 8.
Orion is managed by the U.S. Air Force. The program began in 2007 when Aurora was competitively selected for the "Ultra Long Endurance" program sponsored by the Air Force Research Lab (AFRL). In 2009 Orion was selected as a Joint Capability Technology Demonstration (JCTD). Orion made its first flight on August 23, 2013. The record attempt was the 18th flight in the test effort.
The Orion UAS was designed by Aurora in Manassas, Virginia and was built by Aurora in Columbus, Mississippi.
Pilots of record (known as Air Vehicle Operators) for the flight were Peter Lehew, Cody Allee, Joel Walker and Dave Gerhardt.
"The need for persistent surveillance in areas far from U.S. bases is a geo-political fact of life," said Aurora CEO John Langford. "Orion can do this at operational costs significantly below any competing system. There are also important applications for this airplane in areas such as communications relay and Internet service provision."
The flight was conducted at altitudes between 4,500 and 10,000 feet above Mean Sea Level. Orion landed with approximately 1700 pounds of fuel remaining, with endurance being limited by range availability.