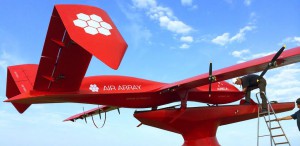 Arca Space Corporation, a New Mexico-based aerospace company, has announced a new range of unmanned aircraft. Airstrato UAVs fill the gap between large, expensive military unmanned systems and lower-priced, small-scale civilian commercial drones by combining the performance of the former with the price of the latter. This will allow smaller businesses, research institutions and even individuals to benefit from an affordable, high-performance unmanned aircraft.
Constructed from composite materials and powered by a combination of internal batteries and solar cells, Airstrato UAVs can be controlled from any part of the world via satellite or GSM communication over the Internet, with all connections between the UAV and the ground station encrypted with AES 256 Transport Layer Security. The aircraft are equipped with inertial flight stabilization and a programmable autopilot, and the onboard ADS-B system makes AirStrato already capable of operating within the US NextGeneration Air Transportation System.
With the help of the Accelerator, a pneumatically-driven catapult that allows the aircraft to take-off in less than a second, Airstrato UAVs can be launched from any location in the world, no matter how remote.
Two Airstrato models will initially be available:
AirStrato Explorer
20 hours endurance
Flight ceiling: 60,000 ft (18,000 m)
Take-off weight: 507 lb (230 kg)
Payload capacity: 100 lb (45kg)
Wingspan: 52.5 ft (16 m)
Length: 23.1 ft (7m)
Maximum speed: 106 mph (170 km/h)
AirStrato Pioneer
12 hours endurance
Flight ceiling: 26,000 ft (8,000 m)
Take-off weight: 485 lb (220 kg)
Payload capacity: 100 lb (45kg)
Wingspan: 39.4 ft (12 m)
Length: 23.1 ft (7m)
Maximum speed: 50 mph (120 km/h)

Potential applications for the AirStrato Explorer and Pioneer include border protection, disaster monitoring and management, rescue missions, military reconnaissance, oil pipe and power line monitoring, communication relays, high-atmosphere scientific research and personal entertainment.
Both models are currently undergoing testing and are available for preorder. Commercial production is expected to begin in May 2015 for the Pioneer and in August 2015 for the Explorer.