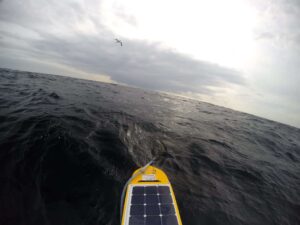 The British USV AutoNaut has arrived back in the Isles of Scilly after a 13 day autonomous mission in which she weathered a 70 mph Atlantic storm while gathering scientific data.
"This was a major test for AutoNaut" said Director David Maclean of MOST (Autonomous Vessels) Ltd which produces the AutoNaut. "To have delivered on time, on budget and to a very tight schedule; and for our unmanned surface vessel (USV) to have gone straight out into the Atlantic and followed her programme through a gale and a storm is a really solid achievement."
"We are delighted to have proved the robustness and reliability of the AutoNaut in these storm conditions in conjunction with the National Oceanography Centre (NOC) MASSMO project which involved seven other autonomous vessels gathering scientific data."
Wave propulsion means AutoNaut can provide very long endurance. She is designed for autonomous data gathering using a wide range of off-the-shelf sensors for science, the military, and offshore gas & oil and renewables industries.
On this voyage AutoNaut 'Gordon', built for the National Oceanography Centre (NOC), was towing a 25m hydrophone array at a depth of 4m, as well as carrying an AirMar weather station, a pyronometer to measure sunlight, two cameras for seabird and marine litter survey work, and a WetLabs Triplet Puck measuring chlorophyll and other aspects of sea water quality.
Russell Wynn, Senior Scientist at NOC said: "We are delighted that the AutoNaut has successfully completed its first major offshore mission, and that the scientific sensors including the towed array have been safely recovered. It is encouraging to see that the novel camera system has already captured high-quality images of seabirds in the offshore environment, and we are excited about analysing the data in the coming weeks."
This 13 day voyage was also a first ocean test for the NarcineArray manufactured by J+S Ltd of Barnstaple and Aberdeen. The 25m array is designed to listen for cetaceans as well as ships, and scientists involved in NOC's MASSMO deployment also hope to get useful data as the array crossed tidal mixing fronts off the Isles of Scilly.
Alex Key, Business Development Manager for J+S Ltd said: "The deployment of a NarcineArray™ with the AutoNaut is a major achievement for both the towing vessel and the array. It clearly illustrates that miniaturising the technology to suit this new evolving market, and enabling collection of data not previously available through traditional methods is the way forward in our ability to measure and monitor the ocean. The collaboration of the AutoNaut and NarcineArray has allowed this to happen. It is also positive proof that the miniaturised NarcineArray is 100% ruggedized, able to withstand rough and challenging ocean going conditions. We look forward to our continued collaboration with MOST (AV) on this and other ground breaking scientific projects."
Mike Poole Director of MOST (AV) added: "the combination of NarcineArray and AutoNaut has great potential. This trial has proven conclusively that the 3.5m AutoNaut has the wave-power to manage this amount of drag in rough ocean conditions and to remain completely controllable by the pilots ashore guiding her via Iridium satellite communication. We look forward to working with J+S to develop the concept to meet customer requirements."
AutoNaut also harvests solar energy at sea to power her state of the art electronics, and carries a methanol fuel cell for additional power when required.
The new unmanned surface vessel (USV) uses motion from the ocean to propel herself, silently, with zero emissions. "AutoNaut is revolutionary," said Mike Poole, "because it is the first commercial use of this particular wave propulsion technology which can be scaled from a 1 metre hull to a ship. Such zero emission power, using the energy of the waves to propel a vessel, has great future potential for the marine world."
David Maclean said, "We raised much interest in AutoNaut as we developed the concept through prototypes and testing, and launched at Oceanology International in London last March. This new production boat's first real ocean test is a great demonstration of the solid engineering reliability we and the market demand. We are hugely proud of what our small team has achieved. Now that AutoNaut is storm-proven we are keen to explore the many uses already identified across a growing global market for the autonomous data gathering made possible by AutoNaut's unique capabilities."
NOC's MASSMO project involved the mass deployment from the Scillies of five unmanned surface vessels and three underwater 'gliders'. Equipped with a range of different sensors this NOC fleet focused its attention on tidal mixing fronts off the Scillies and half way out to the continental shelf break. These fronts where waters mix are areas rich in plankton, which attract fish and birds.
In a second phase of the MASSMO project in early November, AutoNaut 'Gordon' will be deployed off Plymouth to monitor tagged fish. This phase of the research project is being run from the Marine Biological Association in Plymouth and will last a week. A small hydrophone will be towed to listen for signals from the fish tags, as a first stage in a 10 year project to study fish behaviour in the area.