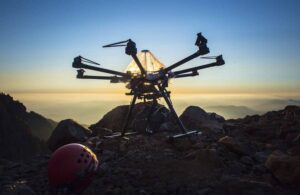 Aerial Technology International has teamed up with the Portland, Oregon film production company Uncage the Soul for the new video 'Requiem of Ice', featuring the largest glacier cave system in the lower 48 states.
The result is a stunning video shot over the past year and reveals the remarkable and changing landscape in the Sandy Glacier Cave system on Mt Hood.
ATI has always thrived on filming in remote locations and there was never a question of whether or not to join Uncage the Soul on this journey. "The Sandy Glacier Ice Caves are a treasure that will soon be gone and ATI was thrilled to be involved in a project that would immortalize the caves and bring them worldwide exposure," ATI co-founder Stephen Burtt said.
The Sandy Glacier Cave system is made up of two large caves, Snow Dragon and Pure Imagination; both extending deep into the glacier. This 'Requiem of Ice' video project, a year in the making, reveals the dramatic melting and collapsing of the cave system that has been occurring since its discovery around a decade ago.
ATI took on a completely new set of challenges in this most recent project. Having scaled waterfalls, rafted great rivers, and generated breath taking aerial imagery from remote locations, ATI has now taken their drones to new heights. By joining Uncage the Soul on their endeavor to create a world class, visually stunning, piece on the Mt Hood Sandy Glacier Ice Caves, ATI took on the challenge of carrying a heavy lift Octocopter up to the Sandy Glacier and deploying it in one of the most difficult environments ever attempted.
To accomplish this, ATI co-founders Stephen Burtt and Lawrence Dennis disassembled their Octocopter, camera gear, charging stations, and accessories in order to fit the gear into their hiking packs. Upon arriving at base camp, after an 8 hour hike, the team re-assembled the Octocopter and accessories, and were ready to face the next set of hurdles. Late summer heat created a very wet and unstable environment in and around the caves. Falling rocks, melting Ice, unstable footing, high winds, and flowing rivers all added to the complexities of creating cinematic aerial video.
To create the video, John Waller and Ben Canales of Uncage the Soul Productions made multiple trips to the cave to observe and film changes that occurred over the past year.
These cave systems have been mapped and surveyed since 2011, and footage was featured in a 2013 multimedia presentation produced by Oregon Public Broadcasting.
This short film produced by Waller and Canales takes viewers on a visual odyssey of the cave system before it disappears. Their narrative interpretation of the final thoughts of the glacier cave is accompanied with the time-lapse, high speed, and ATI's aerial footage shot since October, 2013.