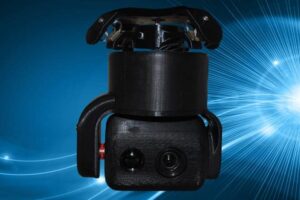 UAV Solutions, Inc. announced a new line of sensors, named Dragon View, at the annual International Association of Chiefs of Police (IACP) event.
Dragon View sensors can be integrated onto unmanned vehicles, antenna towers, to buildings or to other structures to provide day and thermal imagery, video recordings, object tracking and geolocation data. The sensors are lightweight, mechanically and digitally stabilized gimbals with electro-optical and infrared cameras. Buyers will have the option to customize lens size and resolution. Prices for these sensors start at $10,995.
Weighing approximately 1.75 lbs., the sensors can easily be mounted on UAV Solutions unmanned vehicles (or vehicles developed by other manufacturers), on antenna towers and to other structures to provide "additional eyes" for police organizations. Operating at 24 watts, the low-power draw enables more efficient use of the battery system providing longer duration.
"Our goal was to develop a line of sensors that would assist the law enforcement community in various scenarios, such as search and rescue missions and accident scene investigations," stated CEO Bill Davidson. "Its ease of use and ability to be configurable to meet the specific customer application makes a Dragon View sensor the ideal investment for police departments."