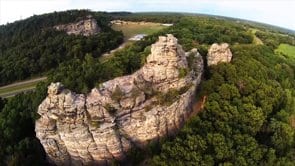 Multiverse Media Group, a firm comprised of marketing, web and video experts, has announced the launch of its aerial videography service. According to Multiverse representatives, aerial cinematography provides businesses and real estate videos with a "bird's eye view" of a location's best features while also taking advertising to the next level, even proving to be beneficial for events, parades and weddings.
Through the use of remote-controlled Unmanned Aerial Vehicles, Multiverse Media Group captures motion-based aerial photography that provides "a stunning overview" of landscapes, businesses, metropolitan areas or even a backyard wedding. As explained by Micha McLain, Multiverse's co-founder, editor and tech guru, "Gone are the days when aerial cinematography came back shaky and unusable. At Multiverse Media Group, we have our hand on the kind of technology that offers unprecedented stability and control over our aerial drone video – and now offer it to our clients."
Multiverse outfits its drones for this new service with state-of-the-art cameras capable of capturing aerial video in "unmatched HD resolutions," ultimately serving the needs of clients that require such a level of professionalism. Further, by choosing Multiverse Media Group for their aerial video service needs, clients will tap into the firm's many years of accumulated experience and knowledge in a multitude of marketing disciplines, all of which – according to company representatives – translates into better shots, project efficiency and lower prices than competing agencies using the technology.
Lightning-quick turnaround is another area Multiverse is concentrating on as the company gets the word out about its new aerial videography services. "We know our clients depend on us to meet set deadlines, and that's why quick turnaround times will forever be a priority at Multiverse Media Group," says James Castro, Multiverse co-founder and creative/marketing expert. "If we say we can deliver our clients' aerial video in Jacksonville FL by a predetermined date, they can take it to the bank."
In offering what Multiverse representatives call a "rare opportunity" for clients to inject their marketing with something "unique," the Jacksonville-based agency's aerial video service appeals to a target demographic in a way that can't be accomplished through "traditional means." As McLain summarizes it, "Competition in marketing and advertising is at an all-time high. To stand out from the pack, clients need solutions that will catch the viewer's eye, and that's precisely where our aerial videography service comes in. We remain dedicated to all our clients' aerial video needs."