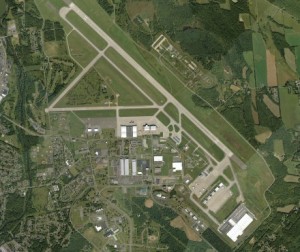 Logos Technologies has received authorization from the Federal Aviation Administration (FAA) to begin flight-testing of the unmanned Tactically Expandable Maritime Platform (TEMP) unmanned aerial system (UAS). Testing will be conducted at the Northeast UAS Airspace Integration Research Alliance (NUAIR) FAA UAS test site at the Oneida County Griffiss International Airport in Rome, NY.
Like all UAS, TEMP requires special permission to operate in domestic airspace in the United States. The FAA certificate of authorization (COA) lays the groundwork for TEMP to become the first UAS to be exclusively tested out of Griffiss, with oversight provided by NUAIR. Testing is expected to begin in October 2014.
The testing facility, located on the site of the former Griffiss Air Force Base, also hosts the Air Force Research Laboratory Information Directorate (Rome Lab). Operating in close proximity to Rome Lab will greatly improve the speed and efficiency with which Logos Technologies can mature this technology for military and commercial applications.
"This news is a great development for the Griffiss community," said Rep. Richard Hanna, U.S. Representative for New York's 22nd Congressional District. "I look forward to continuing to work to facilitate the responsible development of innovative new technologies, like those that Logos Technologies is known for, and demonstrating the great opportunities that the Mohawk Valley can provide to small businesses."
Developed in partnership with Atair Aerospace, TEMP is a lightweight, powered and autonomous-flight-capable parafoil aircraft. Like other similar platforms under development by Logos Technologies, TEMP is designed for a range of missions, including precision cargo-delivery to remote and inaccessible areas to assist with emergency response and other situations.
"This is an important step for Logos Technologies in its development of powered parafoil platforms for both military and commercial applications," said Dr. John Marion, president of Logos Technologies. "We're grateful to Rep. Hanna and our partners at the NUAIR for their wholehearted support that sets a great precedent for the future of UAS technology in New York State."