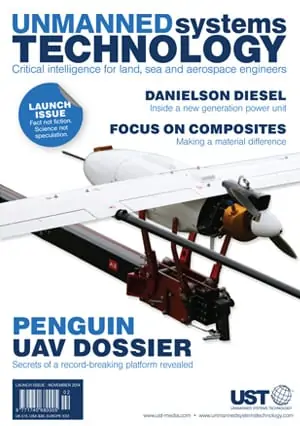 UnmannedSystemsTechnology.com, the online reference site showcasing innovative technologies within unmanned applications, will launch a new print publication in November 2014. Unmanned Systems Technology (UST) magazine will provide an unprecedented focus on the innovative engineering that is successfully pushing the boundaries of unmanned vehicles on land, in the air, at sea and beyond.
UST magazine has been developed in conjunction with the highly respected team behind Race Engine Technology (RET) – the unique high quality, in depth print review of contemporary racing powertrain technology. RET is widely read, referred to and sought after by its dedicated readership of design and development engineers.
Published 4 times a year, UST magazine will apply the same rigorously scientific approach as RET, with in-depth research insights that probe today's cutting edge projects, offering informed analysis backed by professional peer review.
The content of the magazine will include:
DOSSIERS – Each issue contains a number of 'Dossiers' offering an incredibly detailed look at high-profile unmanned vehicle projects, revealing many secrets of the technology that are simply not reported anywhere else.
INSIGHTS – UST's 'Insights' drill down into specific technological topics, providing invaluable knowledge and mission-critical information for engineers working in the field.
FOCUS – Revisited just once every 3 years, the 'Focus' acts as an excellent source of reference on specific products and types of engineering service. Topics covered range from manufacturing to imaging and navigation equipment to training and simulation.
NEWS – The news section is focussed on technological development, with business and politics covered only in so far as they impact directly on the engineers operating in the field.
UST Magazine is targeted to a global audience of professionals within the unmanned systems industry, with a specific focus on engineering, science and technology. For a limited time, interested parties can sign up to receive a complimentary copy of UST magazine issue 01 here: https://www.unmannedsystemstechnology.com/mag/