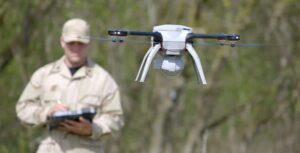 Datron World Communications, Inc. has received a purchase order from a U.S. military customer for small unmanned aircraft systems (sUAS).
"Our VTOL sUAS platforms are field tested and battle proven" said Kevin J. Kane, President and CEO of Datron. "The capability being delivered with this order is setting the standard for intelligence gathering for the tactical operator."
Small, rugged, and lightweight, these VTOL sUAS platforms are ideal for tactical users and designed to capture and transmit high quality video and images in the field. The vertical take-off and landing (VTOL) vehicle has the ability to hover and stare at any point of interest. The GPS-based controller is fully software driven providing simplicity of training and a very easy to use experience for the operator.
In addition to VTOL unmanned aircraft solutions, Datron provides a comprehensive selection of reliable HF and VHF military voice and data radio products to meet the needs of customers in various locations worldwide.