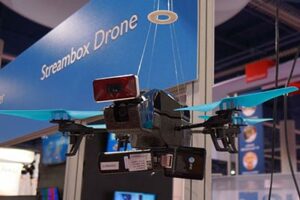 Streambox, Inc has debuted Streambox Drone, a miniature video device for security and streaming, at NAB 2014. Weighing just 3 ounces, Streambox Drone is a mobile video encoding device that streams live videos over bonded 3G, 4G, LTE and Wi-Fi networks to the cloud-based Streambox Live Service where the video is transcoded in real-time and streamed to web and mobile devices.
The miniature Streambox Drone video device is a unique solution for surveillance and security, or streaming from the air or from the ground, with video streaming capabilities over multiple 3G/4G cellular and Wi-Fi networks all at the same time and is integrated with the latest mobile hardware. Streambox Drone's ACT-L3 video compression and reliable LDMP networking technology have been adopted by many leading broadcasters, government, military and enterprise organizations around the world for newsgathering, video transport, video asset acquisitions, and streaming. This same video technology and solution was used by Solar Impulse to stream video from the air on its Across the America Flight in 2013. With Streambox Drone, the advanced video compression, streaming technology, and enterprise server solutions are made available to security, surveillance, and streaming organizations in a miniature mobile device that works over widely available 3G, 4G, and Wi-Fi networks around the globe.
For security and surveillance organizations, many Streambox Drones could be placed on UAV/Drones, mounted in vehicles, be worn by officers, or placed in areas to acquire high volumes of live videos to be streamed to command and control centers where the video can be managed, streamed and played out. At the control centers, the Streambox Enterprise server can be deployed to receive hundreds of live videos with automated metadata-based routing. The video can be sent to media players in media walls across a given network for video playout and/or be streamed to officers' mobile devices, desktops, and laptops at the same time. Streambox offers the same capabilities as the Enterprise Server in its cloud-based Streambox Live Service, for those organizations wanting to use the "Cloud" for back-end operations.
The Streambox Drone provides a future view of how the best in video streaming technology is integrated into rapidly advancing mobile hardware and cellular technology making them available for everyone.